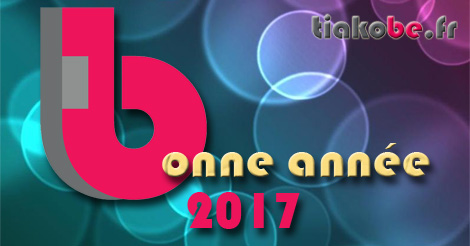 Toute l'équipe de Tiako be vous souhaite une merveilleuse année 2017 et vous remercie pour votre fidélité.
Nos statistiques d'écoute nous prouvent que vous êtes de plus en plus nombreux à nous écouter, et ceci de façon régulière, y compris pendant les fêtes où il y a même eu une hausse des audiences et une écoute bien plus longue sur la durée. (On espère que notre programme du réveillon vous aura plu 😉 )
Cette année encore nous allons continuer à développer notre programmation et espérons développer des soirées thématiques.
Tiako be est un service entièrement gratuit et réalisé par des bénévoles passionnés.
Aussi nous comptons sur vous tous pour faire connaitre cette radio autour de vous, n'hésitez pas à nous suivre sur notre compte Facebook et à partager des liens vers notre page.
Votre écoute est notre meilleur encouragement.
Nous comptons aussi sur nos amis artistes pour nous faire parvenir régulièrement leurs nouveaux titres ou albums, par courrier (nous contacter) ou via wetransfer.com ou tout autre plateforme de transfert de fichier à contact@tiakobe.fr
Nous vous souhaitons de passer de bons moments à notre écoute.